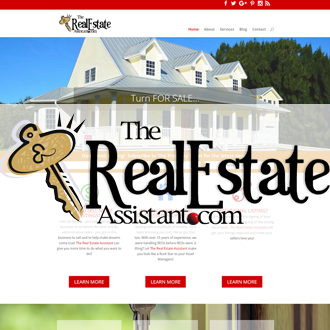 The Real Estate Assistant
NAR REPA, CRESS, PREVA, CREA
Agent Care Specialist
Turn FOR SALE Into SOLD With Help From The Real Estate Assistant!
Location: London, OH, USA
Tina Campbell opened The Real Estate Assistant for business on October 21, 2001. She is celebrating 15 YEARS in business this year and just launched a new website. She is located in Ohio and serves the USA and Canada.
Was there a catalyst event that prompted you to start your own business or have you been planning it for a while?
Huge life change! My daughter was born in 2000 and after a year of being a stay at home mom, I knew I needed some more stimuli. So I mixed my talents (admin) and my passion (houses) and never looked back.
What does your virtual business specialize in?
We specialize in Client Care of real estate agents and niche in agents that handle REO properties.
What sets you apart from others in your area of expertise?
I hold several certifications but that doesn't necessarily set me apart from anyone. Lots of people can obtain degrees and certifications. What sets me apart is my passion for my clients and their business. Their success is the only way I have success.
Describe a typical day in your business:
Is there a typical day?? Almost everything done with REO properties is task and deadline related. Timely task completion is #1 for us each and every day. The rest of the day is filled with putting out fires, the deliberate act of communication with clients and marketing tasks for my own business.
What do you enjoy the most about what you do?
I love everything I do! I like the competition of the task completion deadlines, I like all aspects of REO, I like being innovative and bringing new ideas for success to struggling agents. Most of all, I enjoy the relationships that I build and nurture with my clients!
What do you enjoy the least about what you do?
Let's face it…there are some parts of being an entrepreneur that aren't glamorous. Paperwork, for instance, along with filing deadlines and accounts receivables.
What special challenges has being an entrepreneur brought for you? How have you dealt with those challenges?
The biggest challenge about being an entrepreneur is client acquisition. In the beginning, I took whatever client I could get. Didn't matter if I liked them or could adjust to their work style, I needed clients.
At this stage of my business, I base my client acquisition on chemistry. Obviously, I can help a potential client or we wouldn't have gotten to the consultation phase, so that's not an issue. The issue is whether or not we can work together and maintain working together over the long haul.
When chatting with a potential new client, I feel for chemistry and I suggest to them that they do the same. If they don't feel chemistry, then we shouldn't work together. After all, they are going to trust me with their business! If the trust isn't there instantly, neither one of us should waste our time.
If you were to do it all over again, what do you wish you had known first?
I wish I would have known the US was going to go through a recession in 2008. Many of my agents were hit so hard and some left the business.
What would you do differently, knowing what you know now?
I would prepare my clients for the upcoming free fall. I would assist them in being prepared for the changing market and the influx of REOs and short sales. Most of all, I would tell them to hang in there if they can, it will get better.
What resources would you recommend? (books, ecourses, websites, etc.)
There are far too many to mention! I would, however, suggest that every entrepreneur, just starting out or seasoned, read the book "Hug Your Customers" by Jack Mitchell. Ingenious advice but oh so simple.
(Note: Some links to products on this website result in affiliate earnings.)